STARCRAFT 2 : HEART OF THE SWARM (2013)
BLIZZARD ENTERTAINMENT
I used to play Starcraft: Broodwar a lot during my high school years so having the opportunity to work on Starcraft 2 cinematics was a huge honor and a fun challenge!! Opening cinematics for Starcraft 2: Heart Of The Swarm was one of the most fun projects I was fortunate to work on at Blizzard also because I had a chance to collaborate with such incredibly talented artists/designers as Jonathan Berube, Fausto De Martini, Joe Peterson and many others and learn so much from them. My role on the project included mechanical design and production 3d modeling. The main asset I was working on was the Siege Tank but I also had a chance to contribute a little bit to the design/model update of the Viking and also make some fun smaller environment props and a part of the kit-bash library for populating the environment sets.
All pictures belong to Blizzard Entertainment.
If you haven't watched it yet click the image below to see the cinematics on Youtube or to enjoy it in a better quality click HERE to watch it on Jonathan Berube's website who was the project's VFX Art Director.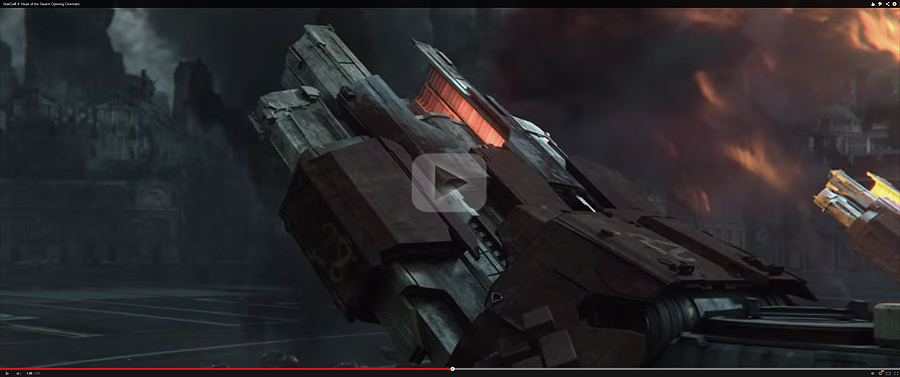 THE SIEGE TANK
My first take on Siege Tank was a collaboration with Fausto De Martini who was art-directing the design on the first installment of Starcraft2: Wings Of Liberty. The goal at the time was to take the original in-game design of the Starcraft 2 siege tank and modernize it as well as detail up the design so it can be shown in the in-game cinematics where it appeared later in the game.
On the second installment of Starcraft2: Heart of the Swarm Jonathan Berube was art-directing the cinematic sequences and it was decided to revisit the design in order to make it fit in-to the more realistic style of the Opening cinematics as well as make it work mechanically for the required action sequence and camera work. I was fortunate to collaborate on this design with Jonathan and also build the final 3d model. Some of the original mechanical parts modeled by Fausto De Martini were also preserved in the final model/design.
Working on this with both Fausto and Jonathan was a true privilege.
Below are some images.
Final approved design/model: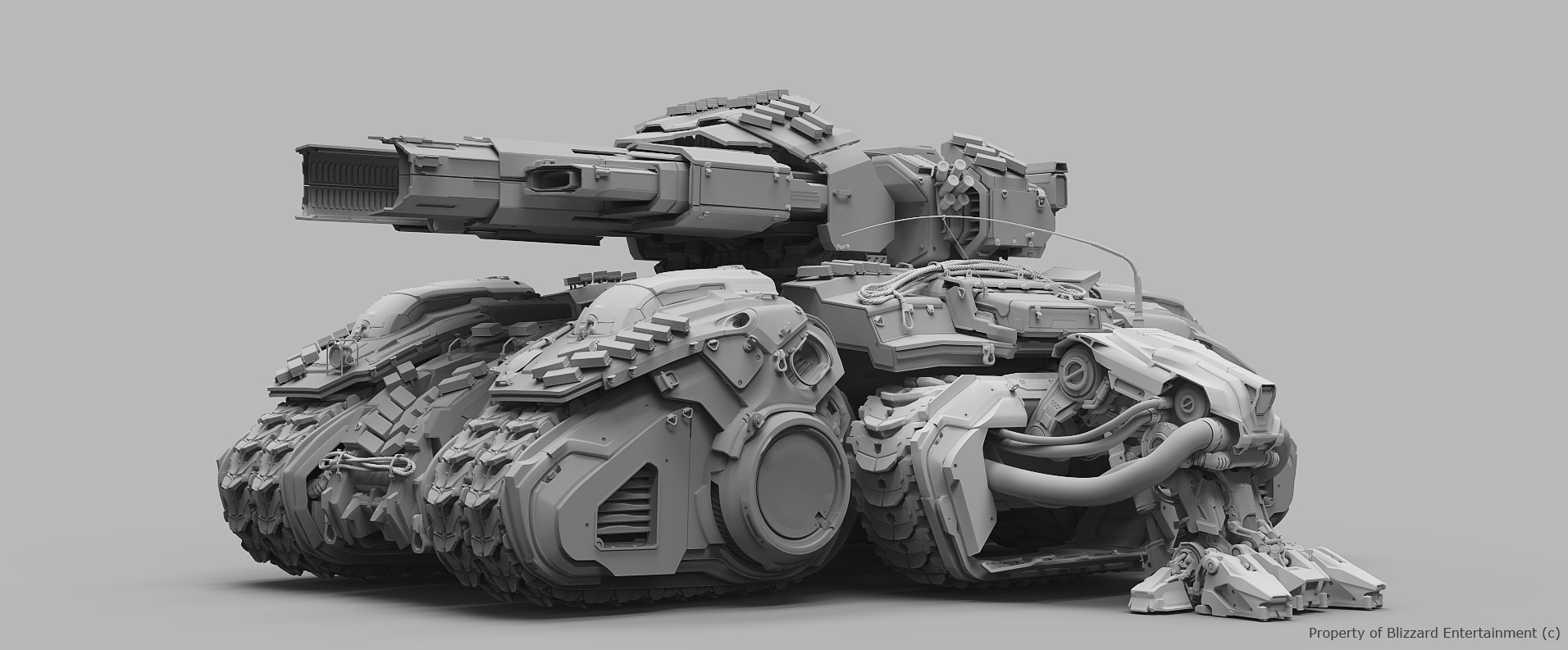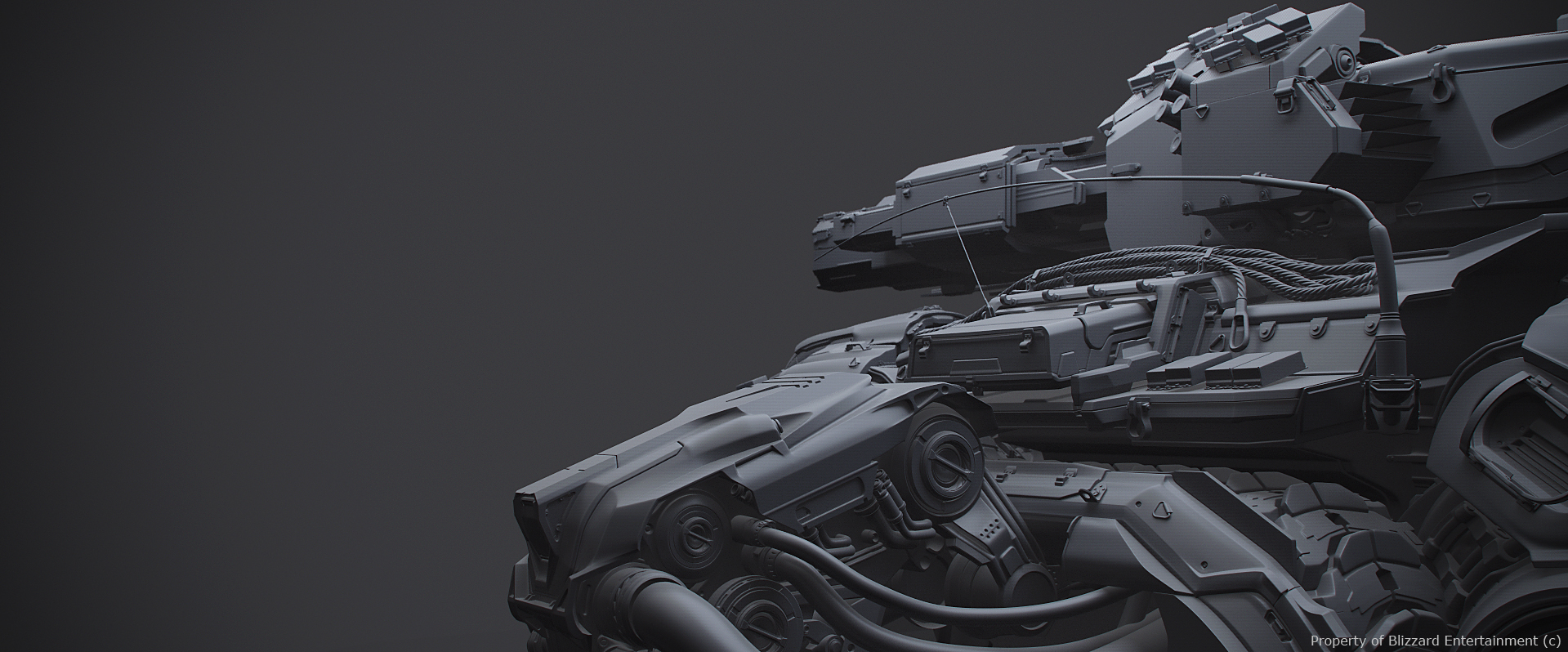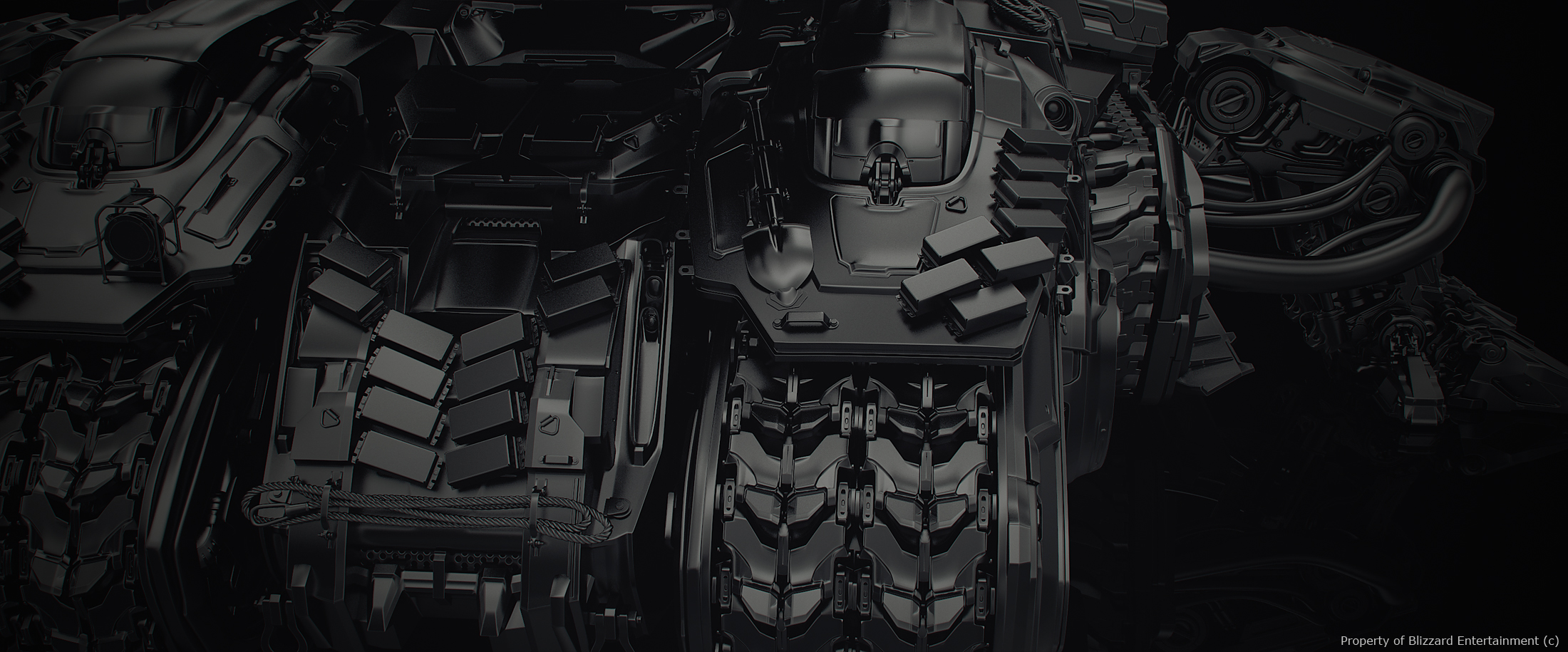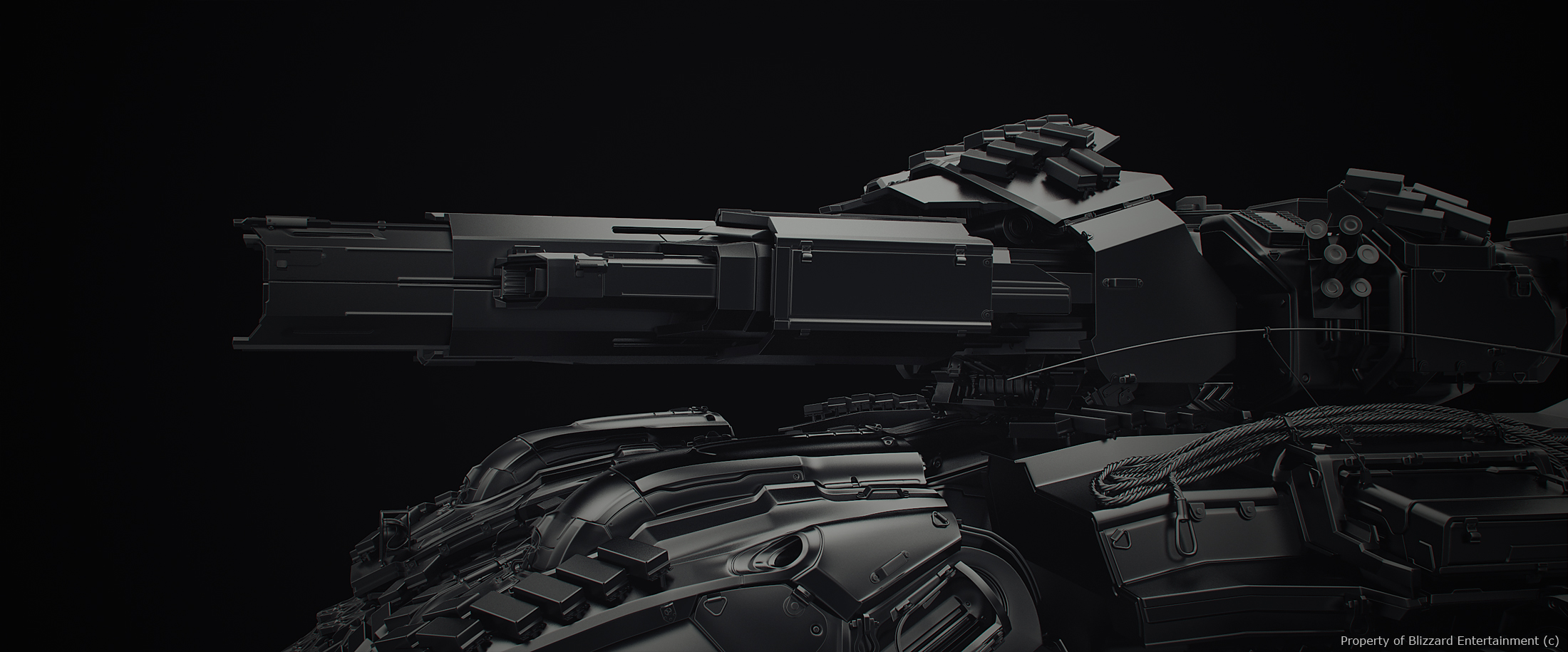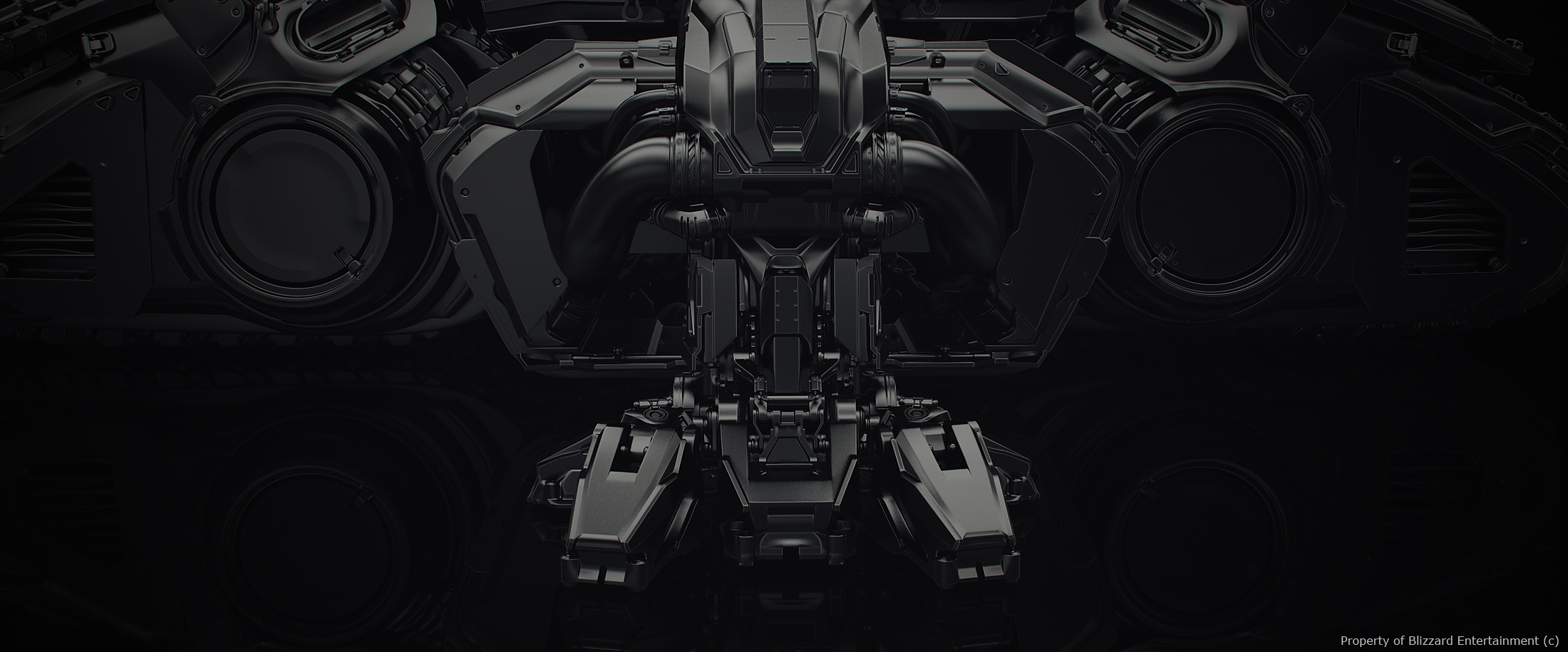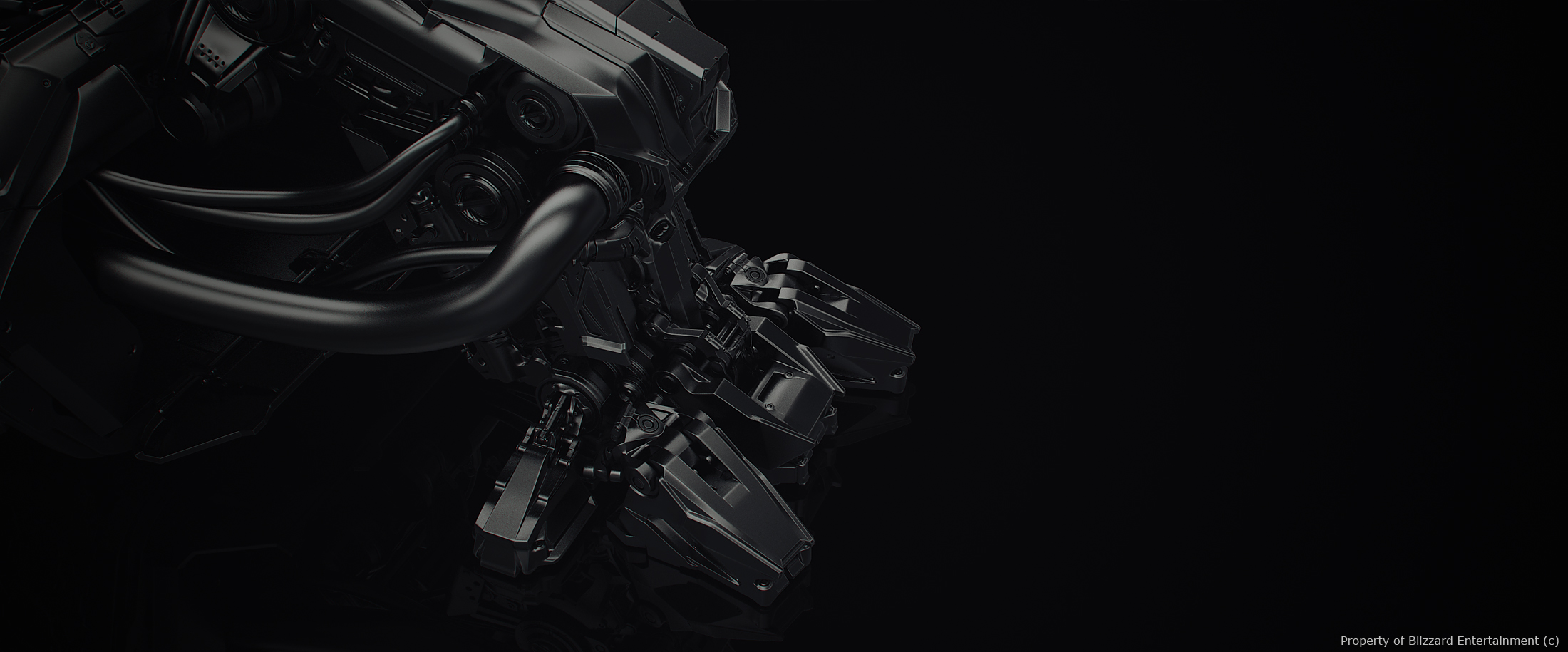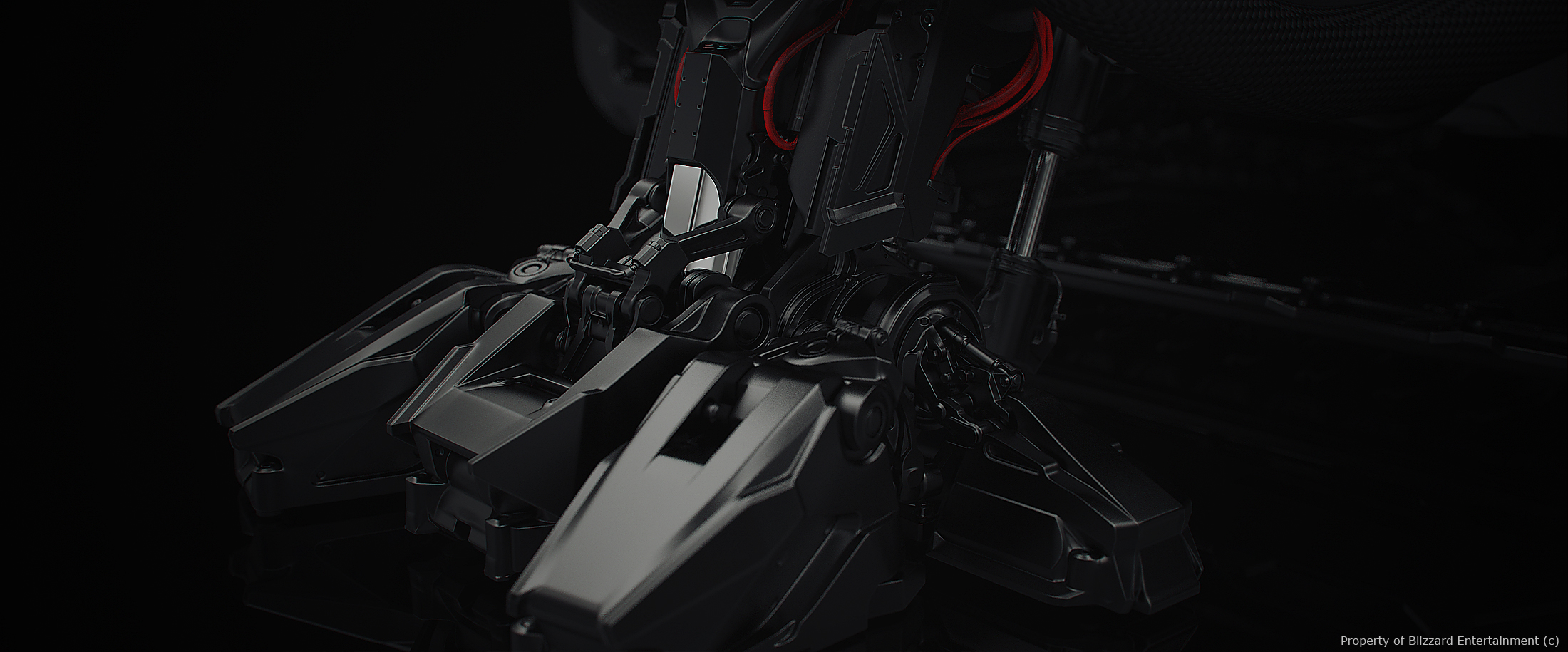 Siege Tank's stabilizing feet is an iconic element of the tank's siege mode because of its importance in the game so it was crucial to get it right for close-up shot in the cinematics.
So sometimes I would emphasize certain elements and would even render them separately as individual pieces when showing the updates like for example this brake disc: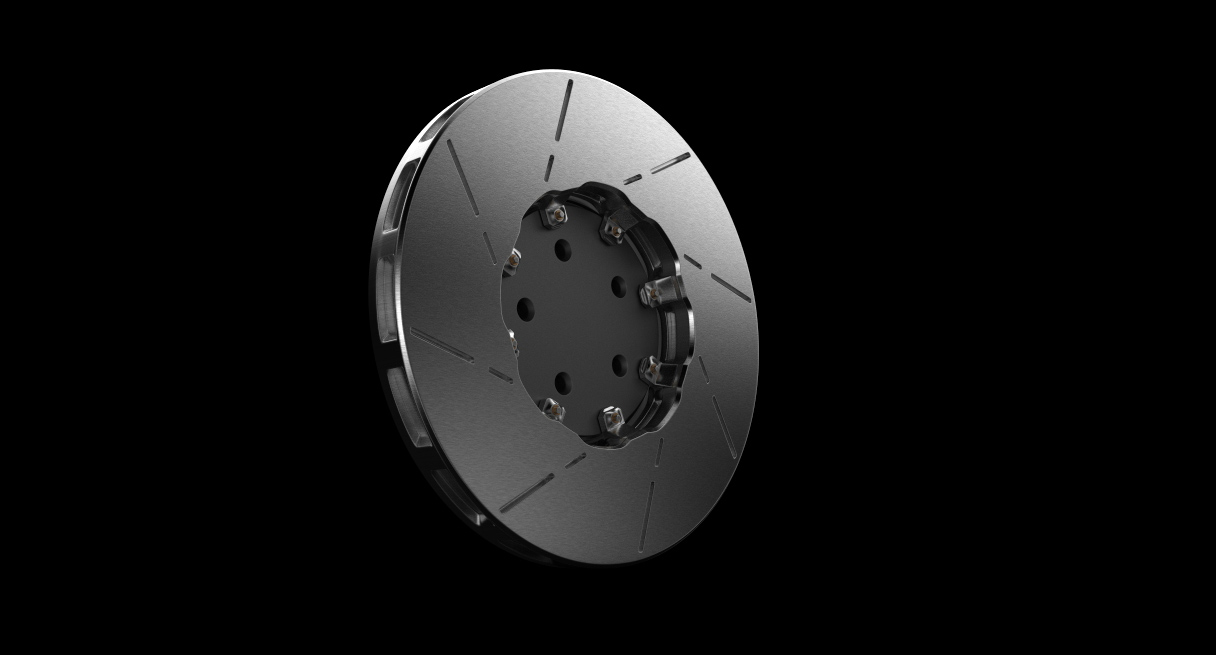 Beautiful textures were painted by Eddie Kim and awesome shaders were developed by Steven Chen and Fin Teo. Also make sure to check out Jonathan's art-direction paintover on the siege tank's thread block HERE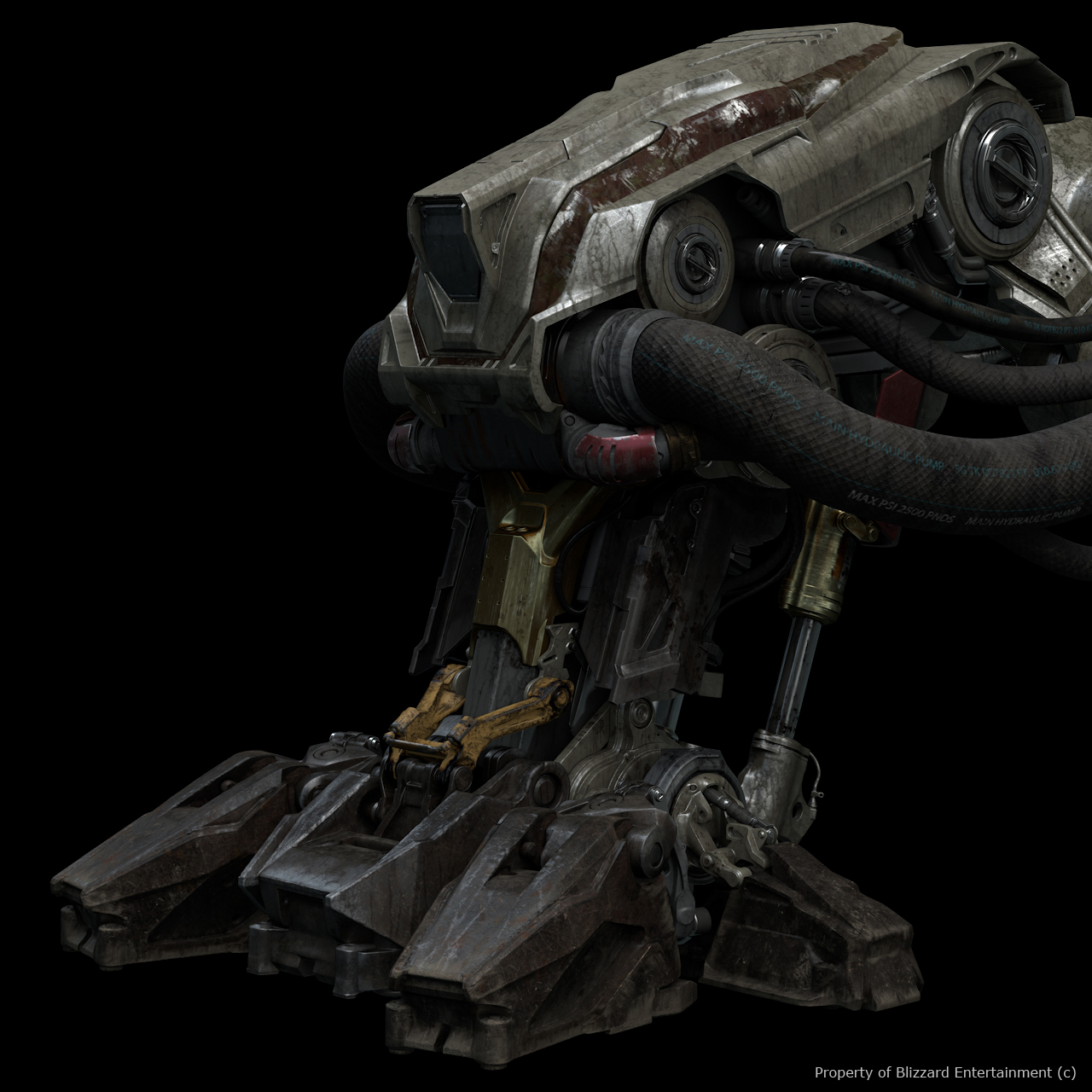 One of my favorite shots features 3 siege tanks ready to deploy in-to siege mode.
( Image credit: Jeff Chamberlain, Jonathan Berube, Ray Chih, Yong Hyun Kim, Kirti Pillai, Laurent Pierlot, Takuya Suzuki, Anthony Eftekhari, Fausto DeMartini, Chris Yang, Mike Kelleher, Sada Namaki, Shawn Liang, Jim Jiang, Seth Thompson, Bill LaBarge, Steven Chen)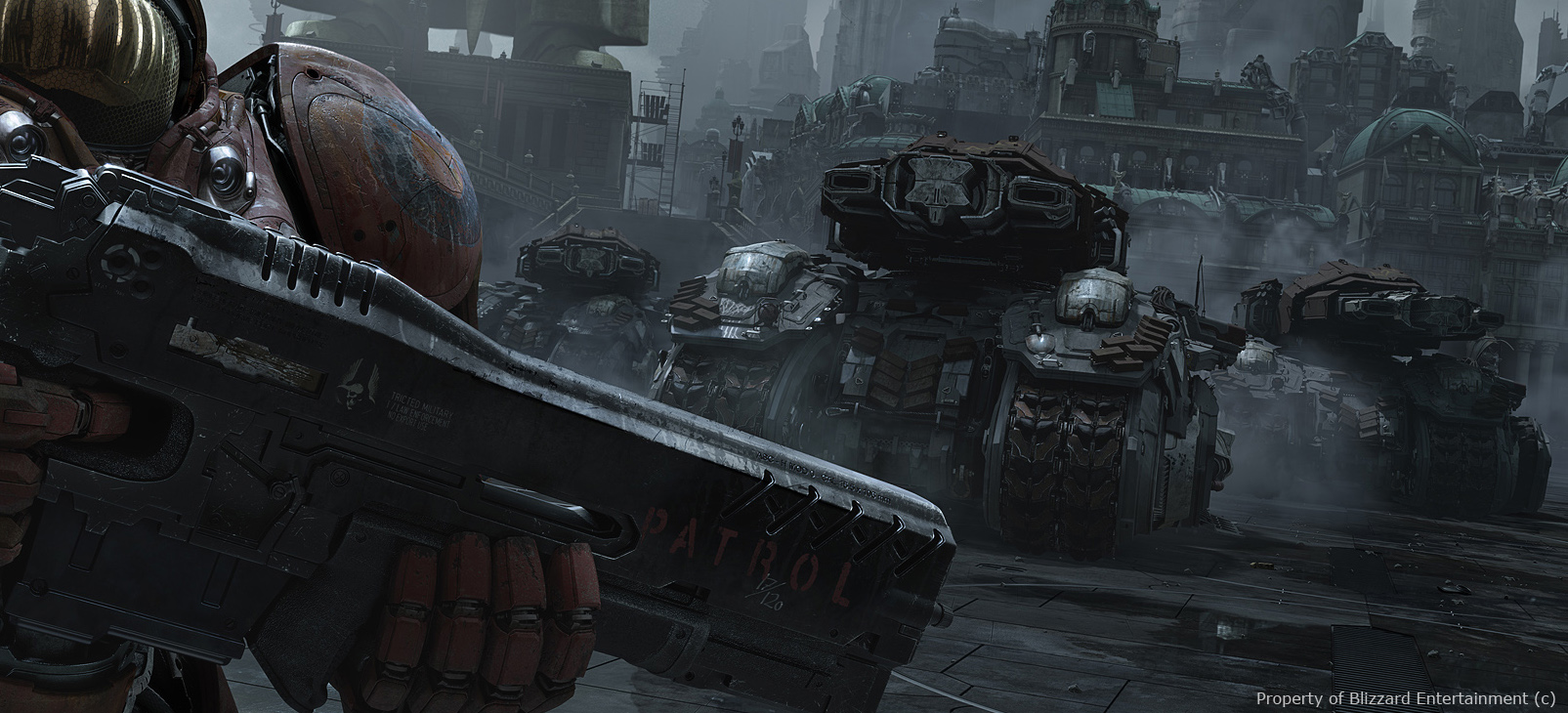 At some point I was experimenting with more rounded shapes and also made a version of the front-mid part of siege tank that looked like this. Lots of redundant SUBDs lol!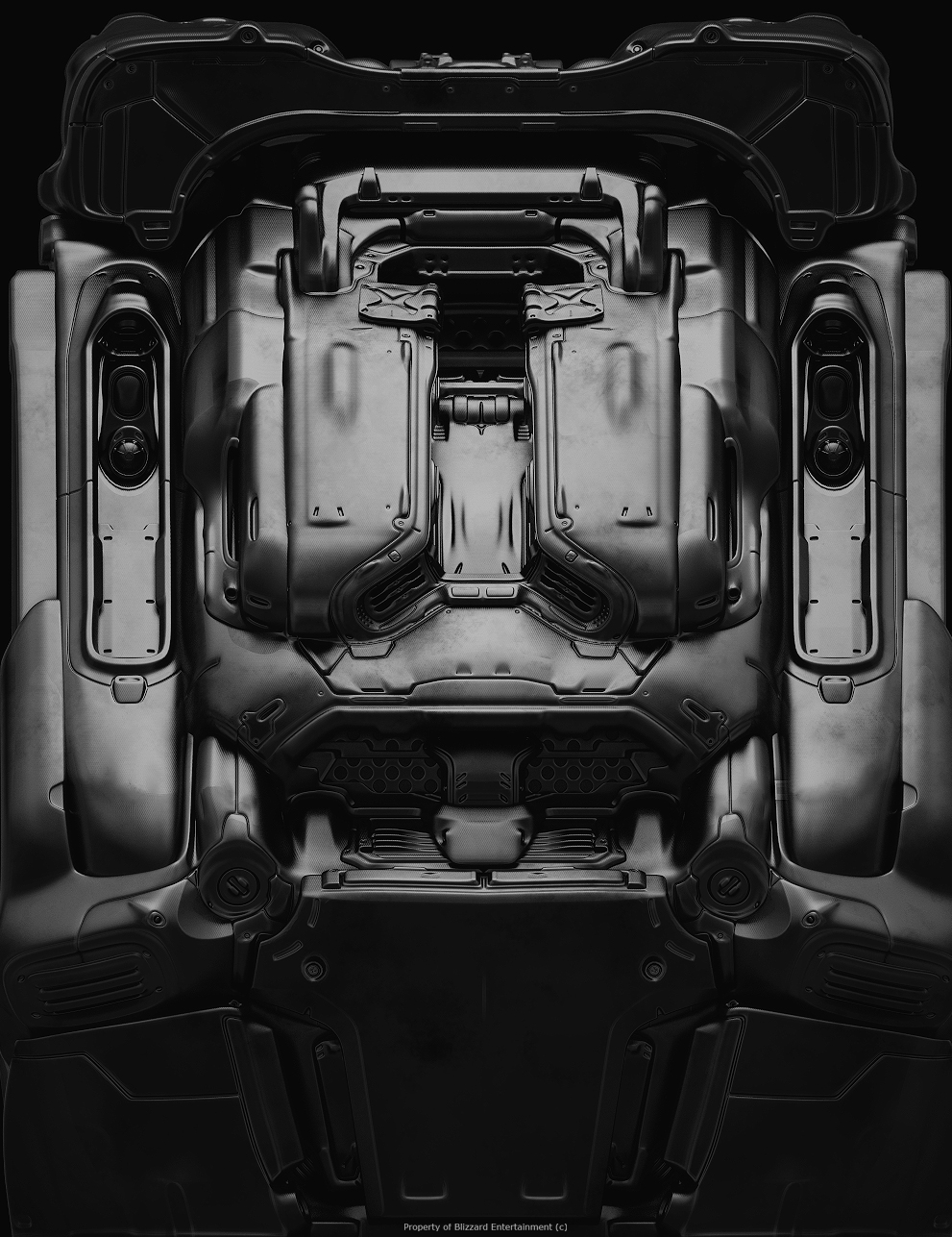 VIKING model update: Cockpit refinement and Landing Gear
Viking cinematic model was originally made by Tyler Hunter based on Fausto De Martini's design.
My role on this asset for Starcraft: Heart of the Swarm - Intro and Ending cinematics included partial redesigning/refining the cockpit+front wings as well as adding extra surface details for additional scale and adding a more complex landing gear to the legs for new close-up shots.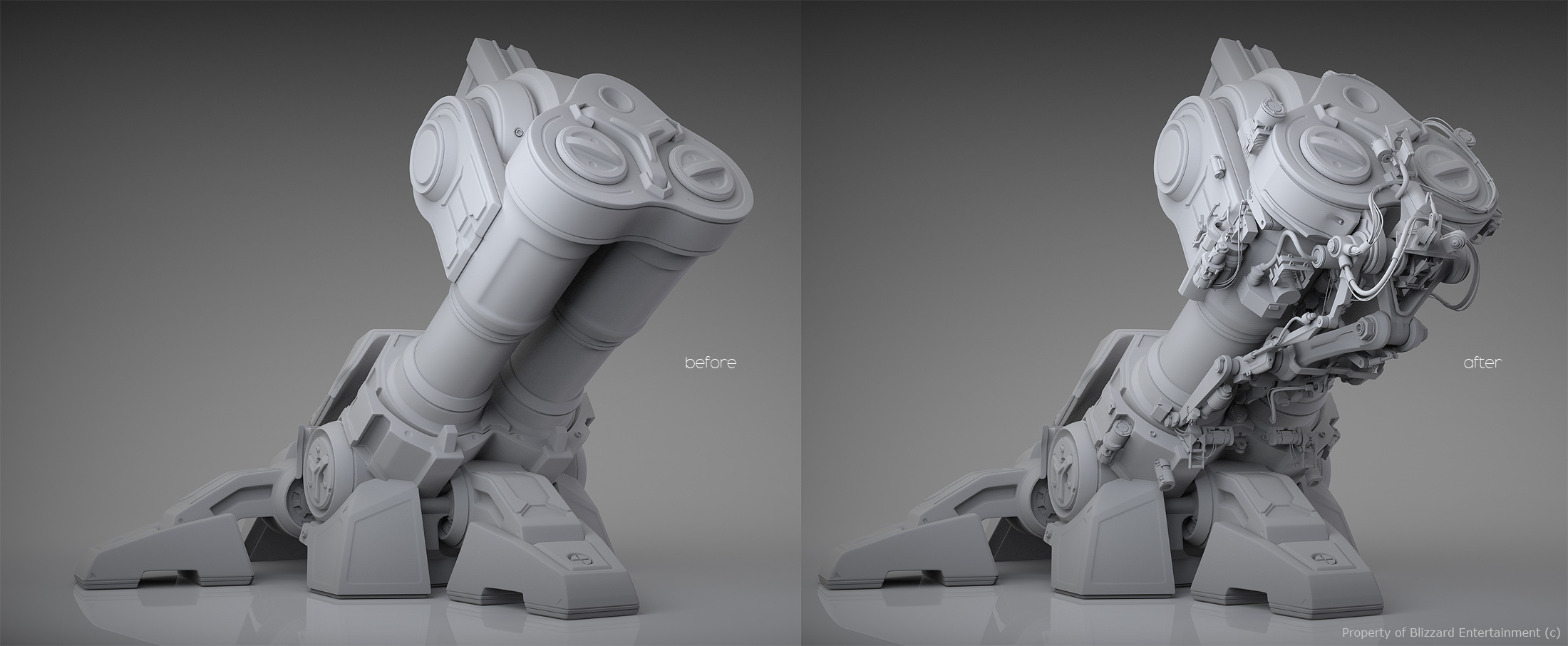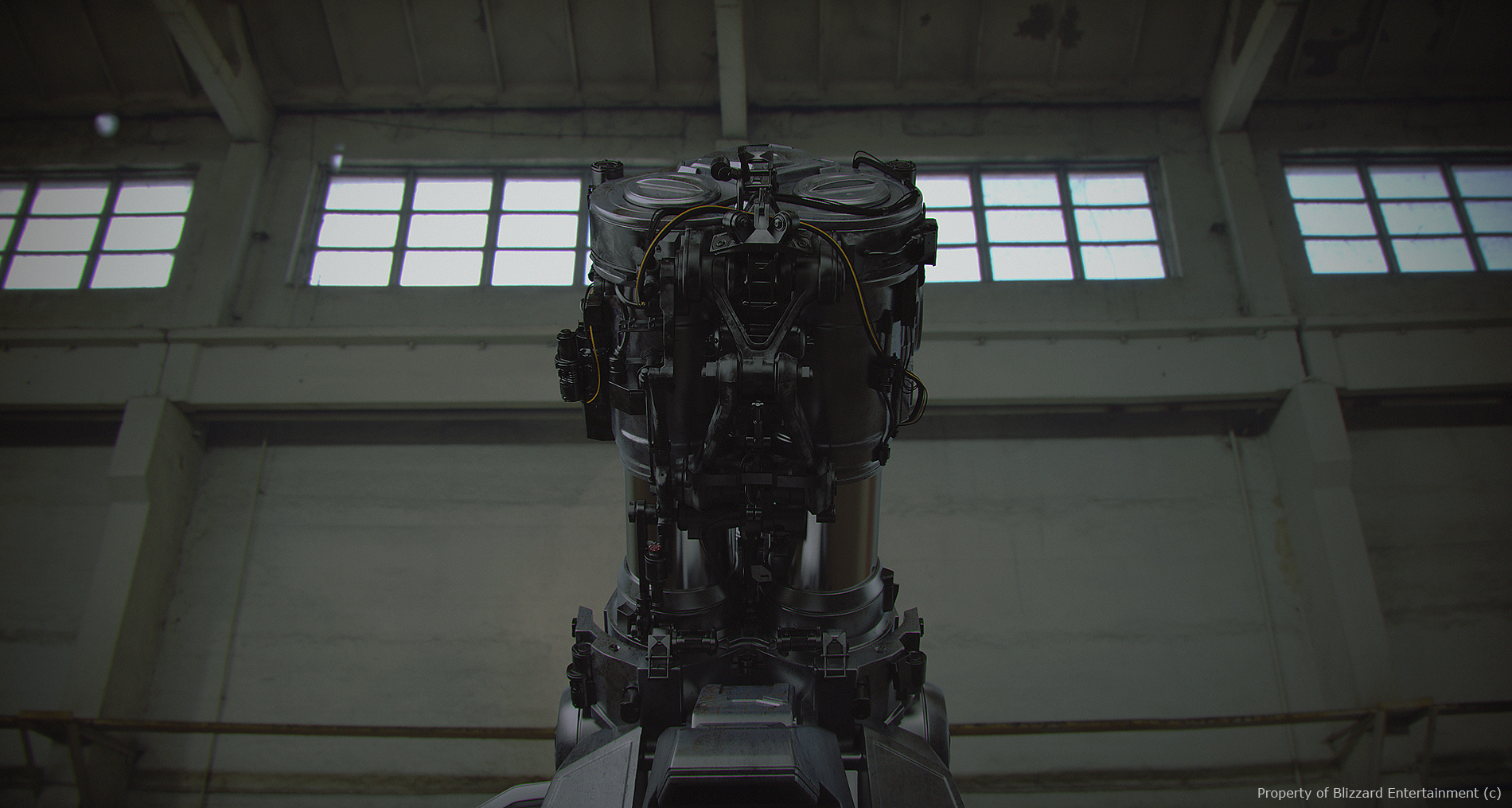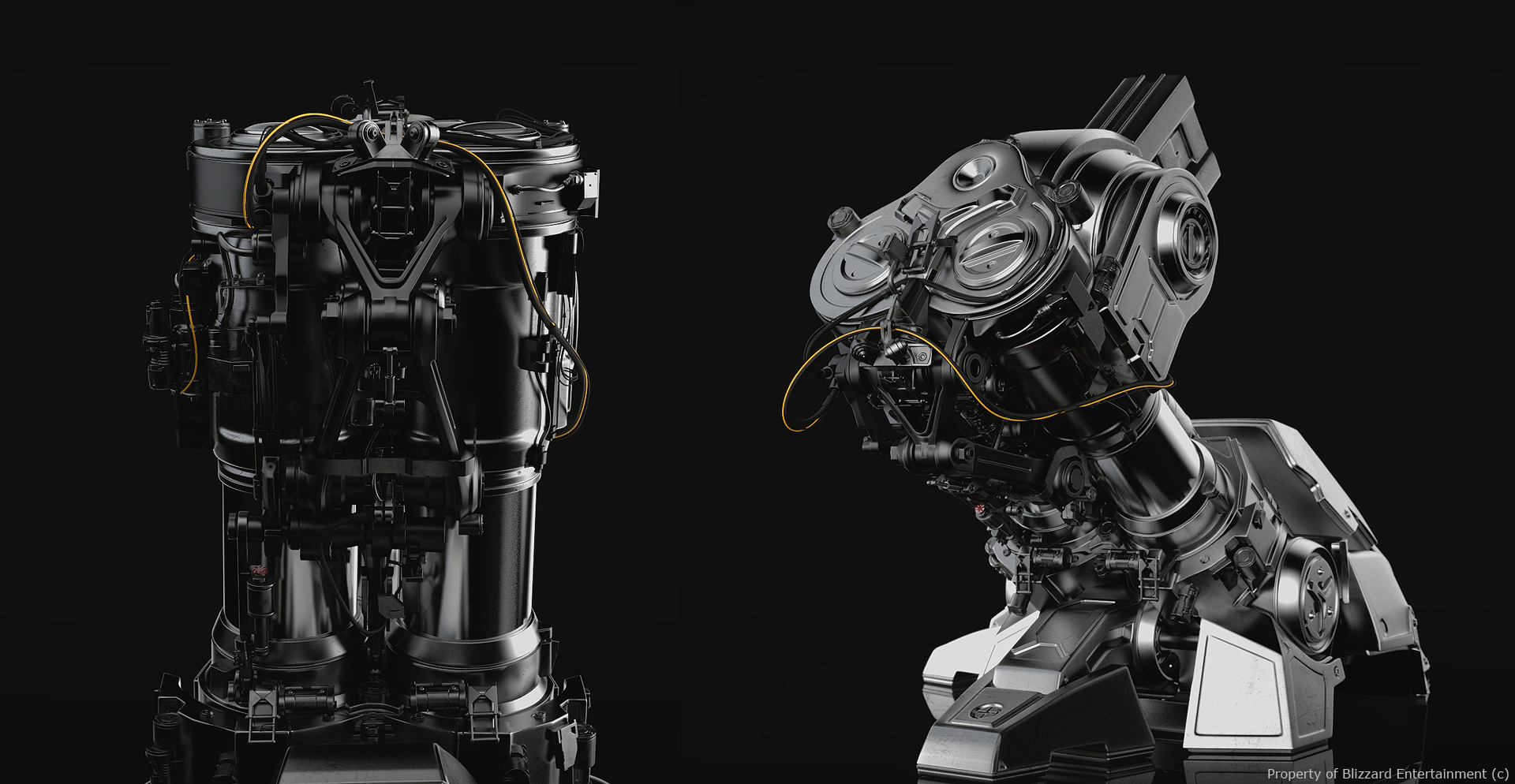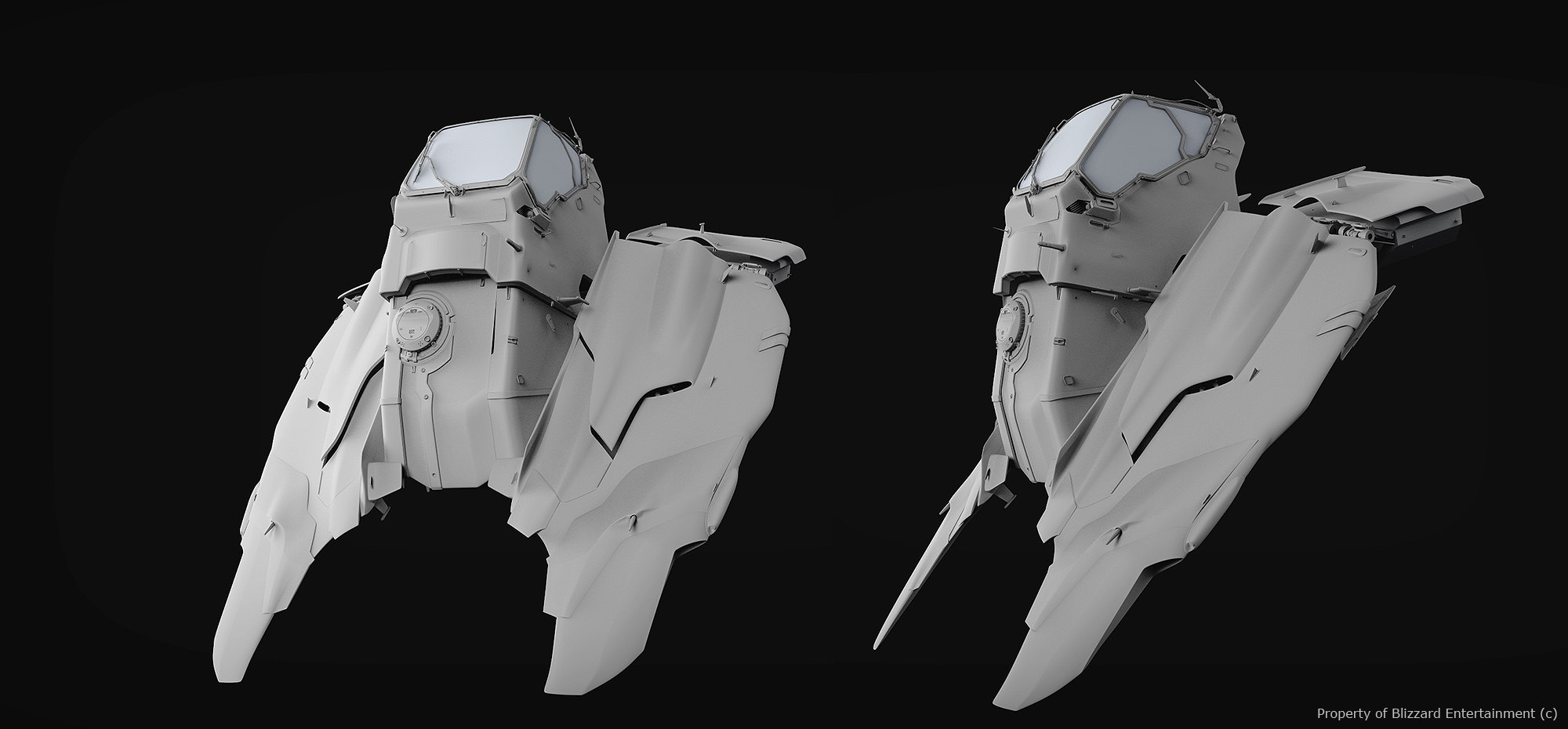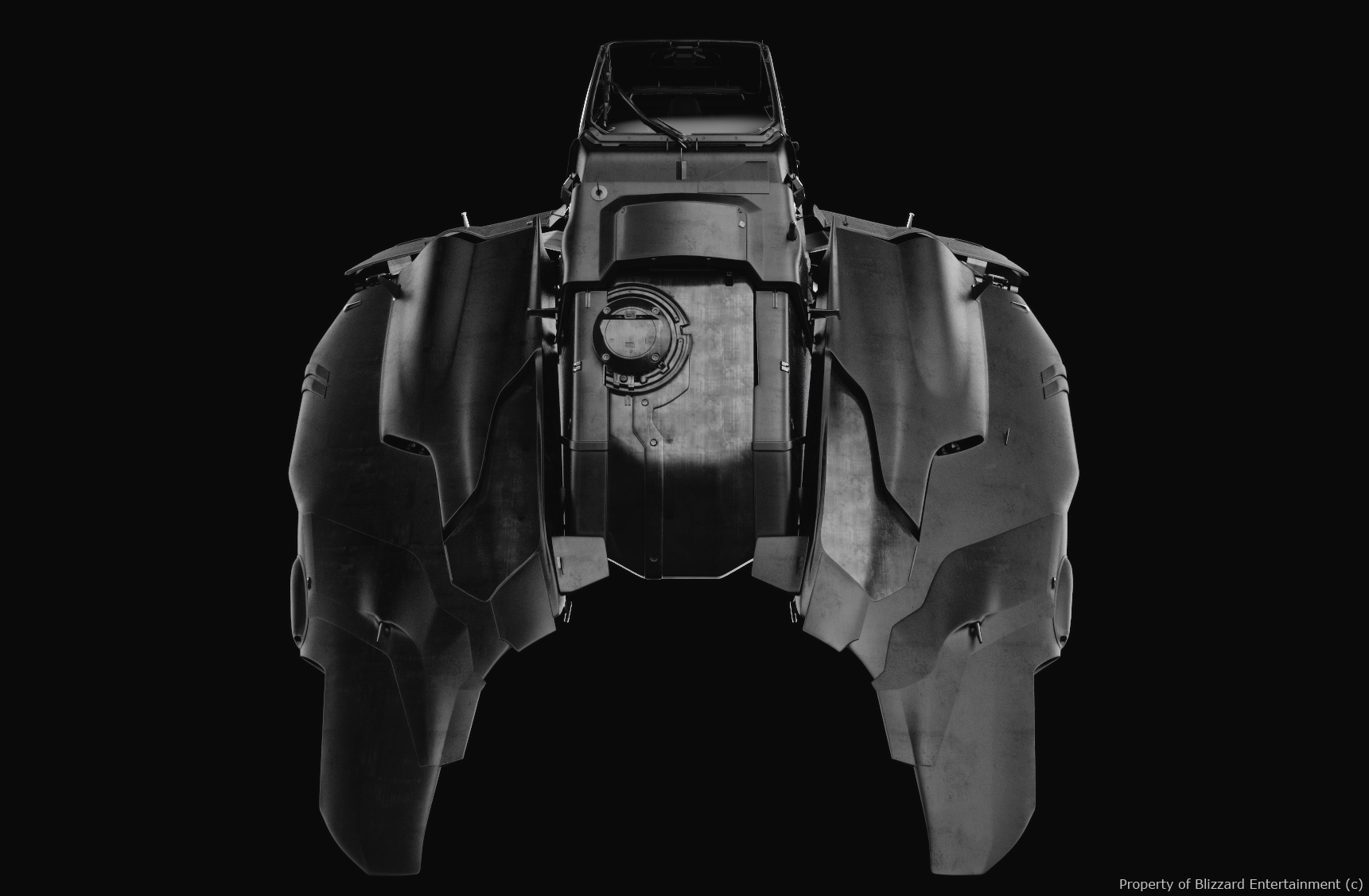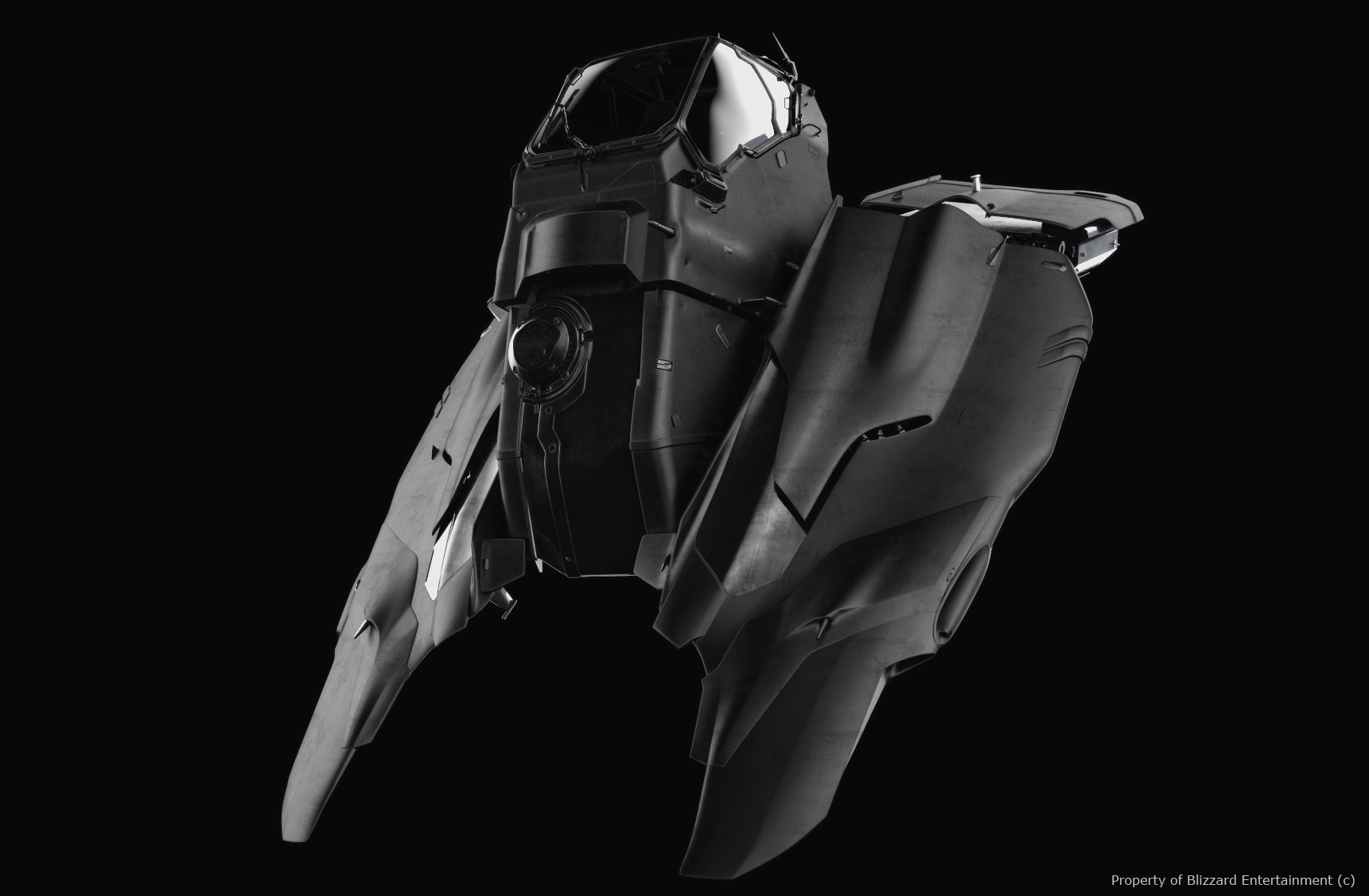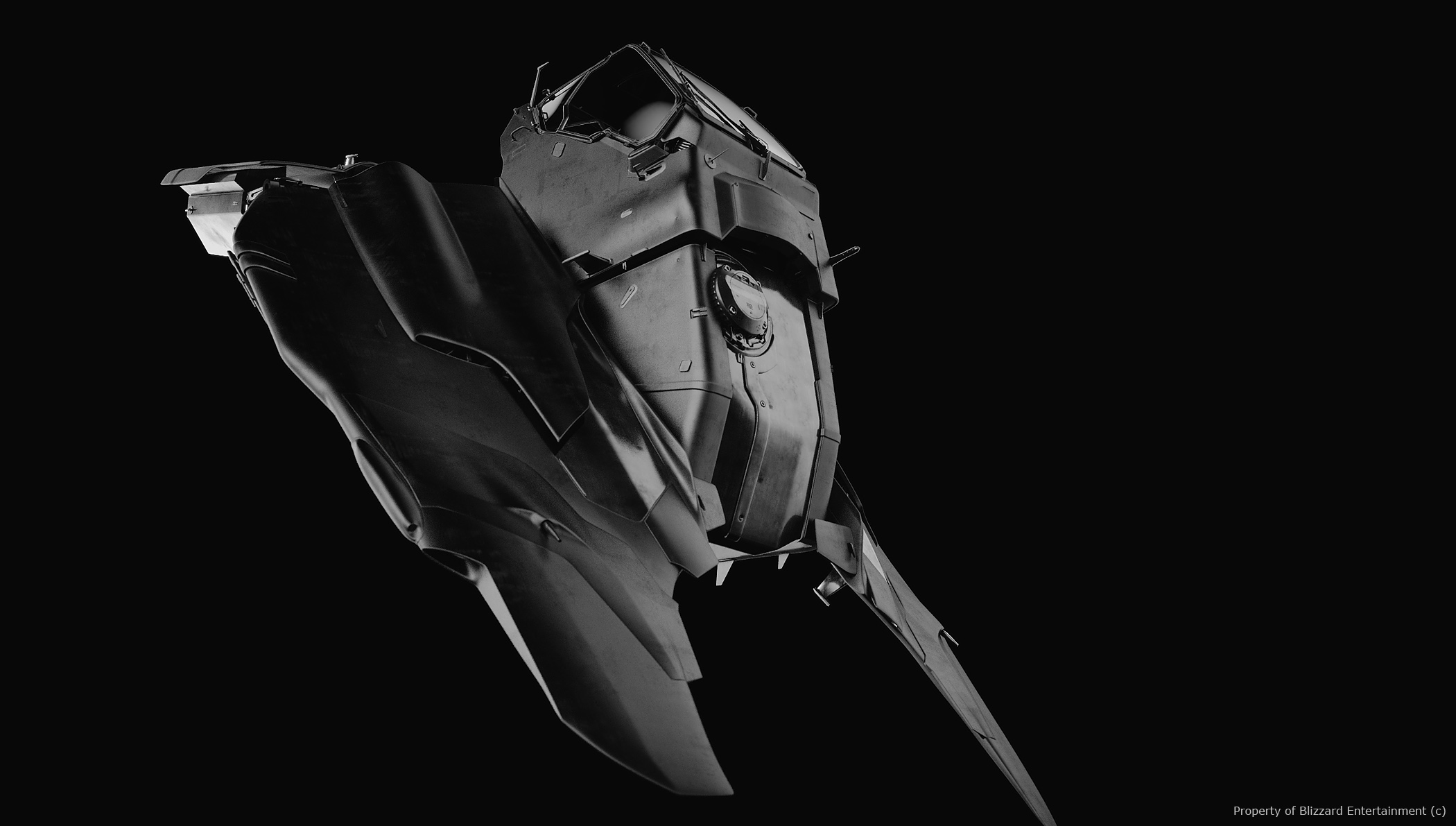 Environment Work
I also had a chance to work on a small collection of various building kits that were later used for populating 3d sets and also for some matte-painting shots of the city. It was a fun practice of very light geometry with minimal detailing. I feel like I should do this kind of practice more often.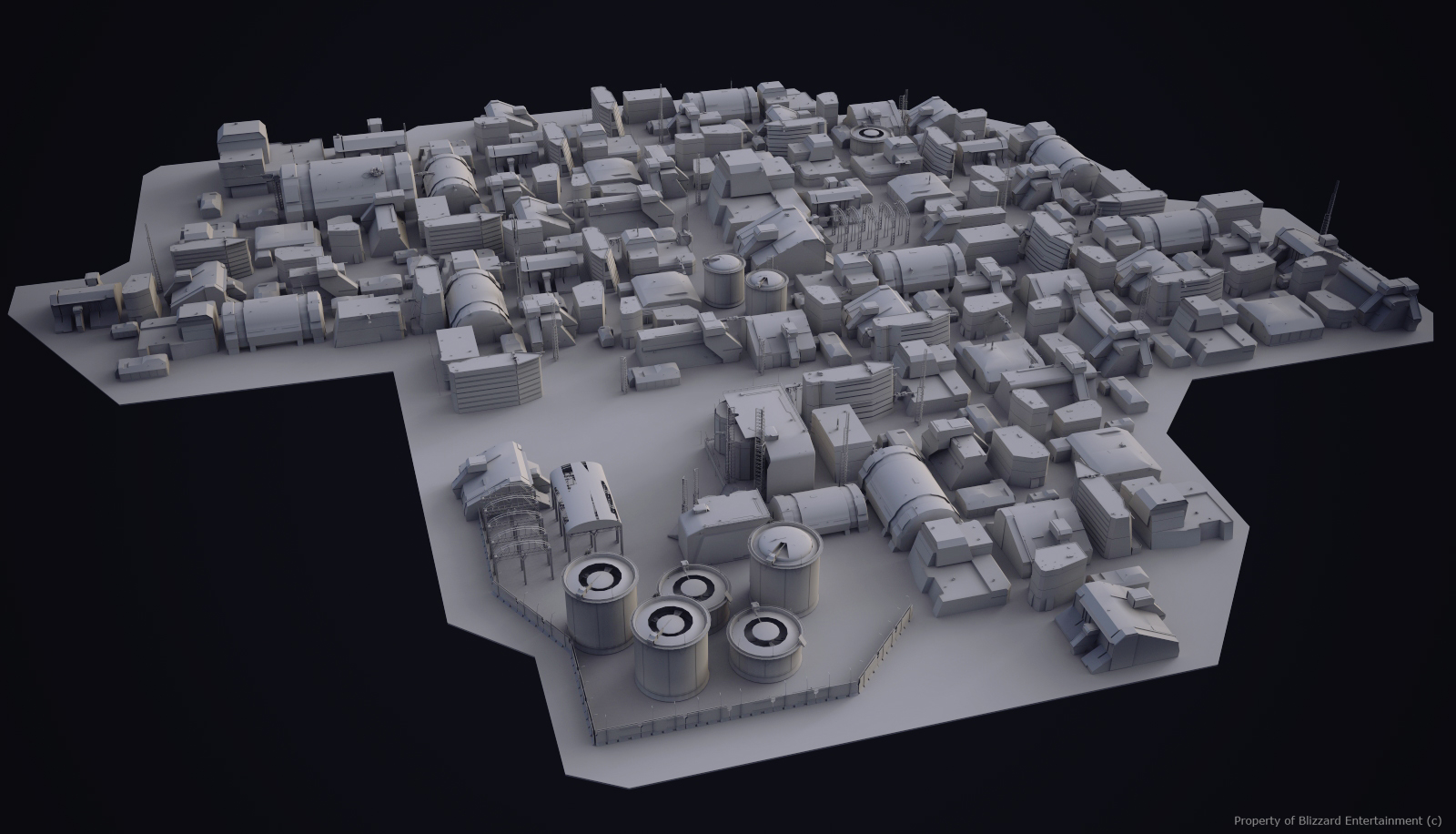 This was one of the kitbash section of buildings interior wall detailing that could be used around the city to give the inner structure more dimension.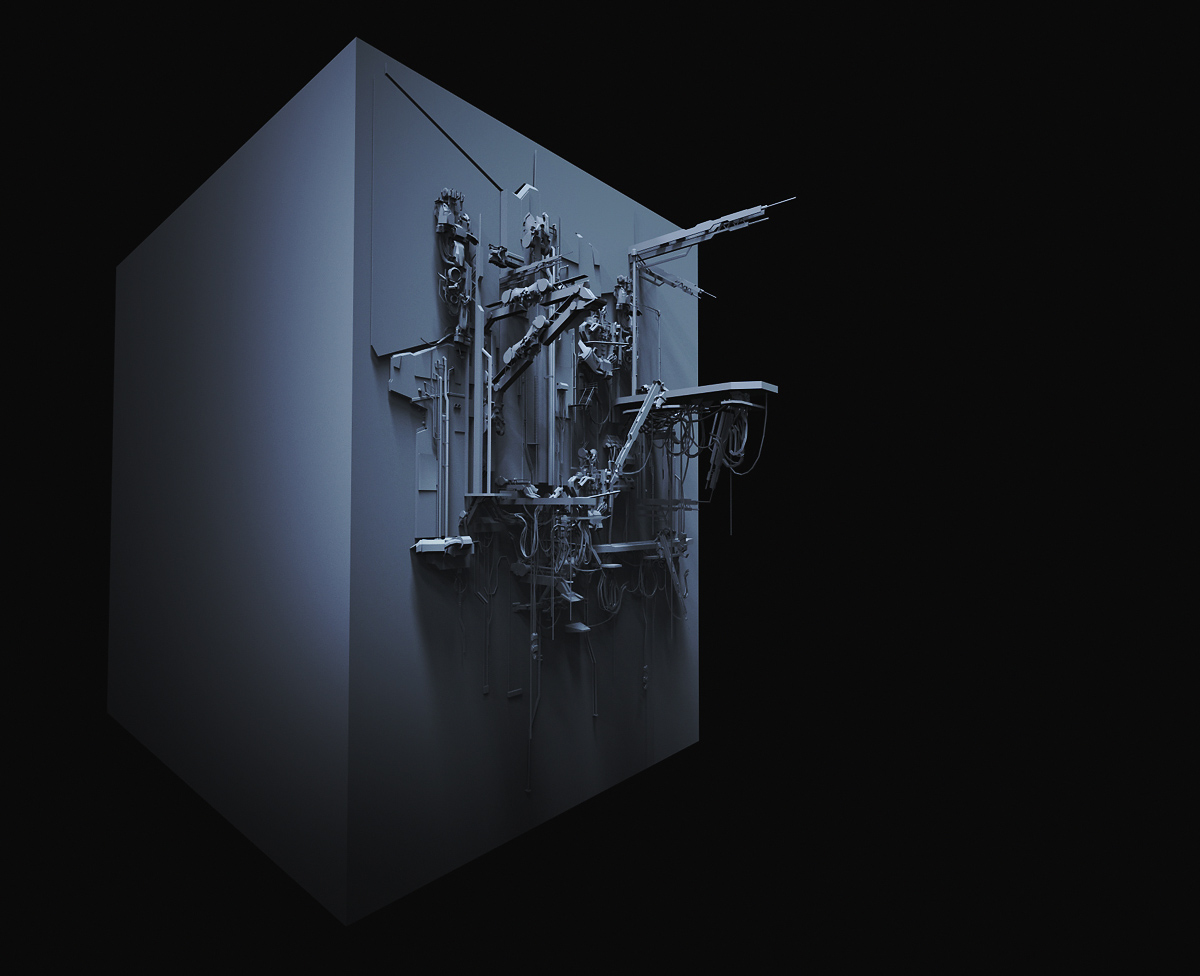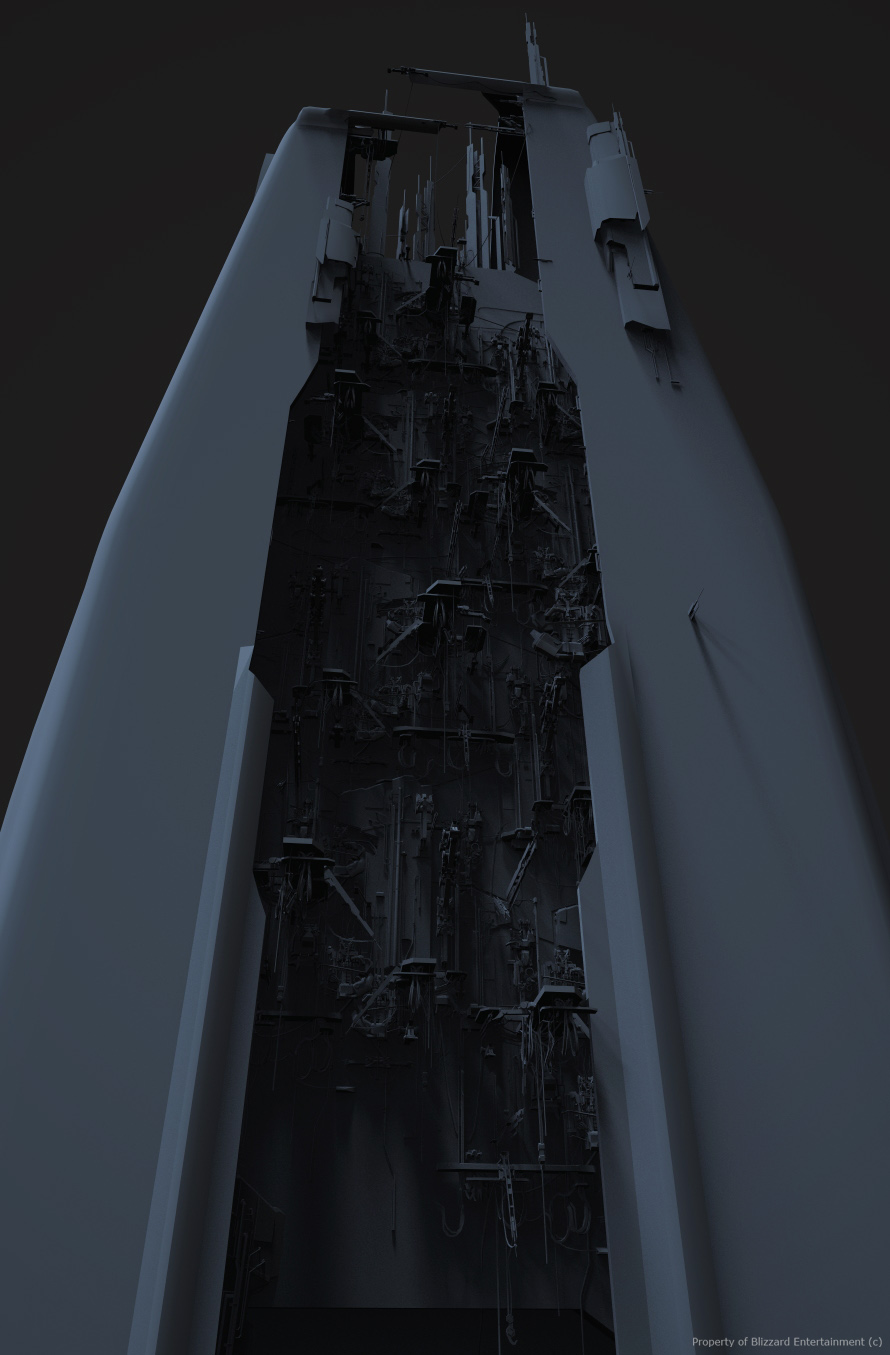 Some other environment design and modeling pieces included the structural frames for more close-up camera work, so unlike the very light geo kits shown above stuff like this was built with SUBDs.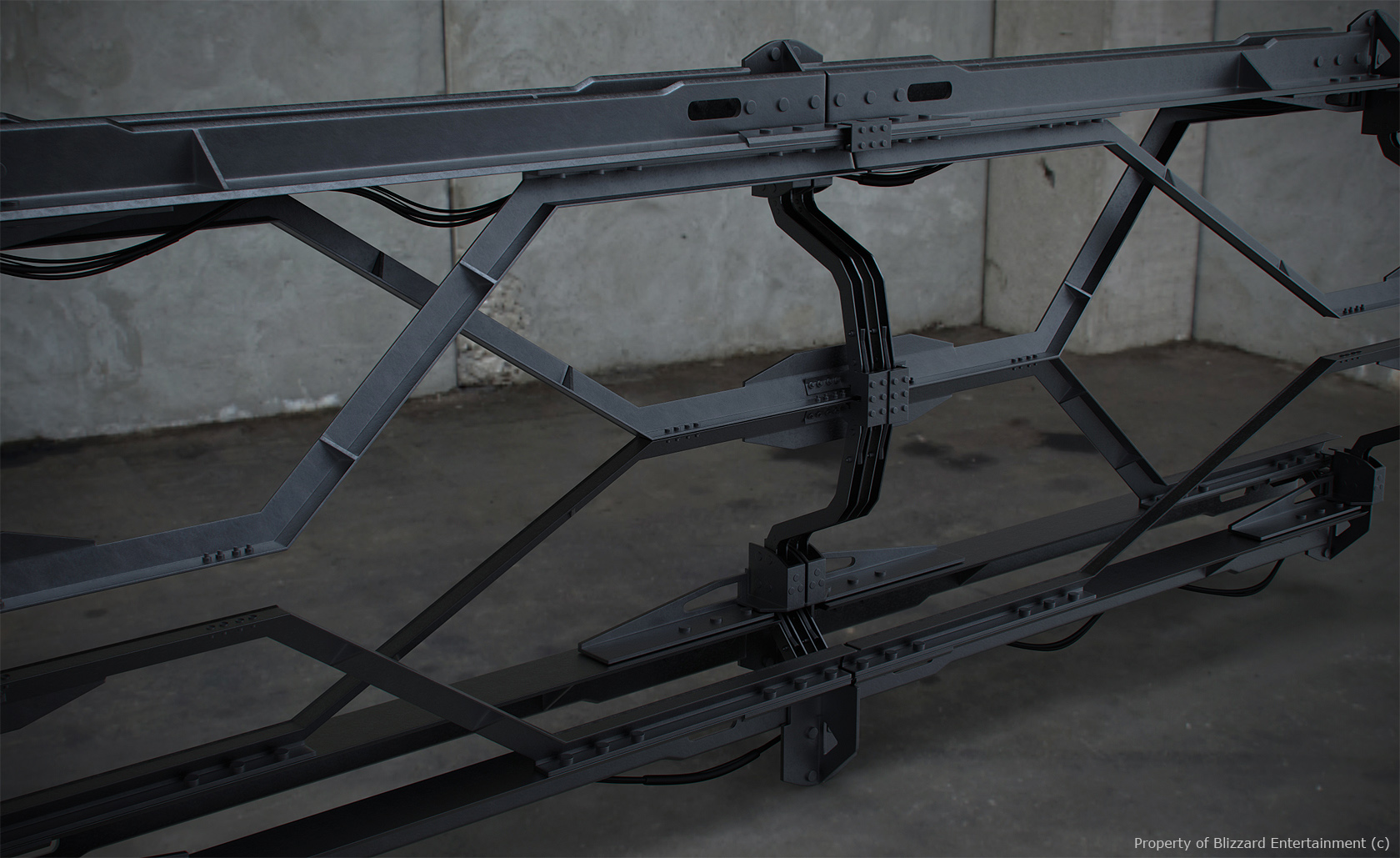 For the Ending cinematics I was also working on an artifact with the floor door mechanism. Although it had very little screen time the door itself was a very fun little prop to design and to model :)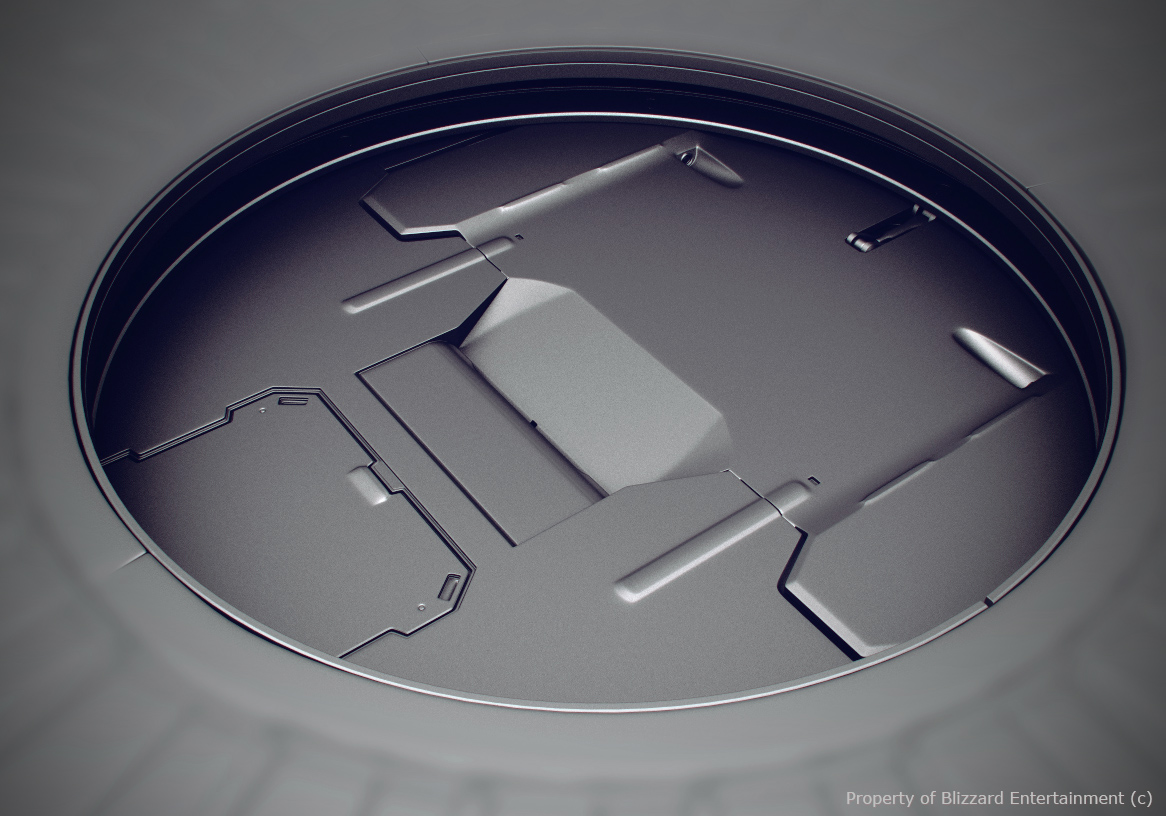 CLICK HERE TO RETURN TO THE TOP OF THE PAGE
ALL IMAGES ARE COPYRIGHTED TO THEIR RESPECTIVE RIGHTHOLDERS. UNAUTHORIZED USE OR REPRODUCTION IS NOT ALLOWED